Alorair Storm SLGR 1600X Dehumidifier -Wifi
Save

$378.00
Save

$378.00
Original price
$2,588.00
-
Original price
$2,588.00
Storm SLGR 1600X dehumidifier Capacity
Overview
We at Alorair, are ever in the pursuit of providing you with cutting edge dehumidification solution. Our team of world-class engineers is dedicated to conquering the challenge of increased indoor humidity by providing personalized dehumidification solutions.
The Storm SLGR 1600X is a perfect example of why Alorair remains a pioneering brand in dehumidification solutions. The Storm SLGR 1600X can control humidity in a space as big as 4,000 square feet.
Key features

High capacity ~ low energy consumption.

SLGR Microchannel Technology.

Quick access to internal service.

Quick connector for Drain Tube and Cable.

 Condensate pump.

Convenient storage for cable and drain tubes.
Applications
The Storm SLGR 1600X is the latest water damage restoration dehumidifier. Built with using Alorair super low-grain refrigerant (SLGR) technology, that uses a special air-to-air heat exchanger system that helps cool the moisture in the closer to the dew point temperature before it is passed over the supercooled evaporator coils. This unit will also combine microchannel Alu condenser hence increasing this unit's efficiency.
The high efficiency of The Storm SLGR 1600X allows it to be able to lower the humidity levels down to single-digit percentages (1% – 9%). This makes this dehumidifier uniquely qualified to take on challenging water damage restoration jobs because The Storm SLGR 1600X can provide better drying results.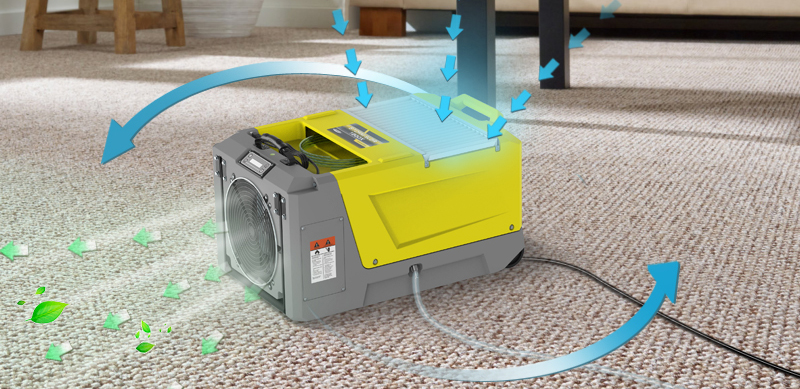 All-purpose use
Capacity. - 
The Storm SLGR 1600X can remove at least:
160 Pints per day at 115V(80ºF-60%).
Performance. - 
The Storm SLGR 1600X is a revolutionary combine new dehumidification technology to provide outstanding results.
This dehumidifier combines the following features:
Rugged design - The Storm SLGR 1600X exterior housing is made of molded polyethylene strong enough to protect the dehumidifier from the harsh condition in the environment the unit is deployed at.

Superior performance - The Storm SLGR 1600X can pull and process large amounts of air and provide extraordinary results fast especially at a high temperature even above 130 Degrees Fahrenheit.

 Easy interior access - The Storm SLGR 1600X can be easily disassembled in  under a minute when maintenance is needed.

Small and portable - The Storm SLGR 1600X is built small -compact and easily portable. The size of The Storm SLGR 1600X is impressive compared to most high capacity dehumidifiers in the market today. It is designed to allow you to stack a number together for easy transport and built will a strong handle that allows you to easily move it from one space to the other.

Pump drainage - The Storm SLGR 1600X has a powerful condensate pump that continuously pumps out the collected water out of the dehumidifier to a distance of over 5 meters via a pipe.

 
Warranty -
The Storm SLGR 1600X has an extended 5-year warranty. Built to perfection with a unique design and using durable materials, we guarantee you that the Storm SLGR 1600X has been tested through and will easily provide you with several decades of peak performance.
Specifications
| | |
| --- | --- |
| SLGR Microchannel | Excellent In Low Humidity and High Temperature |
| Power | 115V/60HZ |
| Size For | Up to 4,000Sq.FT |
| Filiter | G3 filter |
| Air flow | 400CFM,680CMH |
| Sound Pressure Level | <63 DBA |
| Refrigerant | R410A |
| Wheel | 2 Samll Wheel |
| Draining | Condensate Pump |
| Defrosting Control System | Automatic Defrosting |
| Functioning Temperature Range | 33-122°F |
| Functioning Humidity Range | 35~90% |
| Capacity115V(80ºF-60%) | 160Pints/Day |
| COP | 2.4L/Kwh (115V/60Hz) |
| Weight | 99Ibs |
| Dim (L×W×H) | 30.9" ×20" ×16.9" |
| Loading quantity | 40"H: 120 Sets; 40": 280 Sets; 20": 280 Sets |