AlorAir - Sentinel HD90 Basement - Crawl Space Dehumidifiers
Save

$225.00
Save

$225.00
Original price
$1,250.00
-
Original price
$1,250.00
AlorAir Basement/Crawl Space Dehumidifiers
198 Pint (Saturation), 90 PPD (AHAM?, Energy Star Listed, 5 Years Warranty, Auto Defrosting System, cETL, up to 2,600 Sq. Ft, Optional Remote Monitoring
Overview
Sentinel HD90 Dehumidifier
Sentinel HD90 Dehumidifier is one of the appliances that can be relied on to control humidity from the surrounding. It removes water vapor and humidity in spaces under the roof. It can also be used to control humidity in crawlspaces or any other section of the house. It is a low noise level product that can be used to supplement air conditioning systems. The unit features a unique dual airflow outlet and is an ideal solution for basement humidity problems. It is versatile and comes with features that allow it to dehumidify an estimated area of 2,600sq ft. It comes with a remote humidistat that allows it to be deployed in areas where remote sensing and controlling is required. Since it allows for optional duct mounting, it reduces installation time meaning that you can mount it in a different location and dehumidify other rooms through the connected horse. The unit is small and weighs about 79.6 lbs.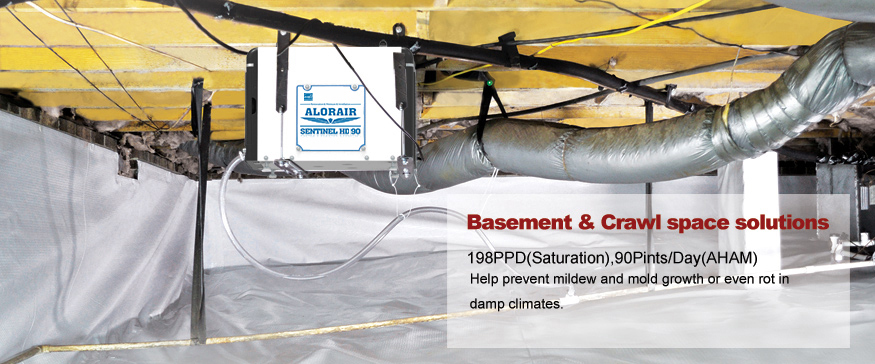 Humidity is the cause of dampness, stuffiness, or odor in the basement or crawlspace. Failure to control the humidity levels with not only cause structural damage like wood rot or wood warping, but will also create the perfect environment for allergens like mold, and mildew to grow.
Most homeowners tend to ignore the humidity levels in the crawlspace or basements, however, research from the American Lung Association has proven that moisture, odor, and allergens in these spaces can easily spread out to the entire house.

Key features
Supper COP Energy Star Listed 2.69L/Kwh.

Continuous gravity Pipe Drainage.

Rare earth alloy Tube Evaporator.

Energy star.

Automatic Defrosting System.

Compatible with Remote Control.  (Notice: sold separately).

Ducting options for divided spaces

Small – compact and portable.

Quick access to the mainboard.

Quiet operation.

Engineered for low-temperature operation.

Laundry mode.
---
Applications
The sentinel HD90 is a high capacity dehumidifier. It is ideal for tight spaces dehumidification. These spaces may include:
Crawlspaces,

Attics.

basements.
This unit is the design and built to stimulate air circulation while operational, this is the main reason the sentinel HD90 is able to produce superior results in this space.
The sentinel HD90, however, offer you a wide range of usability application. The sentinel HD90 is built small – compact and portable with heavy-duty straps for ease of movement. Since this unit can cover a wide space that extends up to 2,600 square feet, it can, therefore, be deployed in:
households.

Shops.

Storage areas.

Garages.

Restoration work.

Industrial institutions.

Laboratories.

Offices.

Restaurants or bars.

Museums or sports halls.
Generally, in any space that requires humidity levels to be regulated.

All-purpose use
Capacity. - The sentinel HD90 is able to remove at least:
90 pints of water per day at 115V(80ºF-60%).
This is very impressive comparing the sentinel HD90 is the same size as the Sentinel HD55.
Performance. - The sentinel HD90 is built to provide you with superior results fast. It combines the following features:
Air filtration - The sentinel HD90 is equipped with easy to clean filters that are used to trap any mold spores and other Impurities in the air.
Auto humidistat - The sentinel HD90 is equipped with an advanced humidity sensor that is able to notice changes in humidity levels in the bypass air design reducing short cycling and saving energy.
Quick internal access - The Sentinel HD90 can be easily disassembled in under a minute, for easy service and maintenance.
Remote control - The sentinel HD90 will allow you to remotely adjust the dehumidifier settings remotely without having to do it manually on the unit. This makes it easy to control humidity in a tight space. ?Sell separately?
Plug and play – At Alorair we have built and designed the sentinel HD90 to be an easy plug and play appliance you don't need to have any technical knowledge to operate this unit. All available installation modes are easy and don't require a technician.
Duct options - The sentinel HD90 allows you to provide focus dehumidification or dehumidification in different space without moving the dehumidifier.
Warranty – The sentinel HD90 has an extended 5 years warranty. At our state-of-the-art production facility, our engineer's design and carefully built the Sentinel HD90 to perfection. Every unit is thoroughly tested and proven to 100% effective at lowering humidity Levels.
Make increased indoor humidity a problem of the past! Invest in the sentinel HD90 today!
Specifications
| | |
| --- | --- |
| Power | 115V/60HZ |
| Current | 5.56A |
| COP | 2.69L/K |
| Size For | Up to 2,600 sq.ft. |
| Filter | Pre Filter (Optional MERV-8 Filter) |
| Air flow | 210 CFM,350 CMH |
| Sound Pressure Level | <58DBA |
| Refrigerant | R410A |
| Feet | Adjustable Feet |
| Draining | Gravity Draining |
| Defrosting Control System | Automatic Defrosting |
| Functioning Temperature Range | 33~105? |
| Functioning Humidity Range | 35~90% |
| Capacity115V(80ºF-60%) | 90Pints |
| Weight | 79.6Ibs |
| Dim(LxWxH) | 23.2x15.2x17.7in |
| Loading quantity | 20":180Sets/40":412Sets/40"HQ :515Sets |