ALORAIR - Sentinel HD55 Basement -Crawl Space Dehumidifiers
Save

$364.00
Save

$364.00
Original price
$999.00
-
Original price
$999.00
ALORAIR Basement/Crawl Space Dehumidifiers
Removal 120PPD (Saturation), 55 Pint Commercial Dehumidifier, Energy Star Listed, 5 Years Warranty,
Condensation
, Drain pump and hose included in unit.
Overview
Sentinel HD55 Dehumidifier for Basement

Sentinel HD 55 is the best dehumidifier for the basement. It can also be used in crawlspaces and other enclosures.
The dehumidifier comes fitted with a humidistat whose job is to monitor the conditioned space.
The idea is to star dehumidifying when the humidity goes above any configured point. It works in conditioned spaces and helps to regulate the atmosphere of a place.
It does this by withdrawing moisture from the atmosphere and reducing the dampness in the surrounding spaces.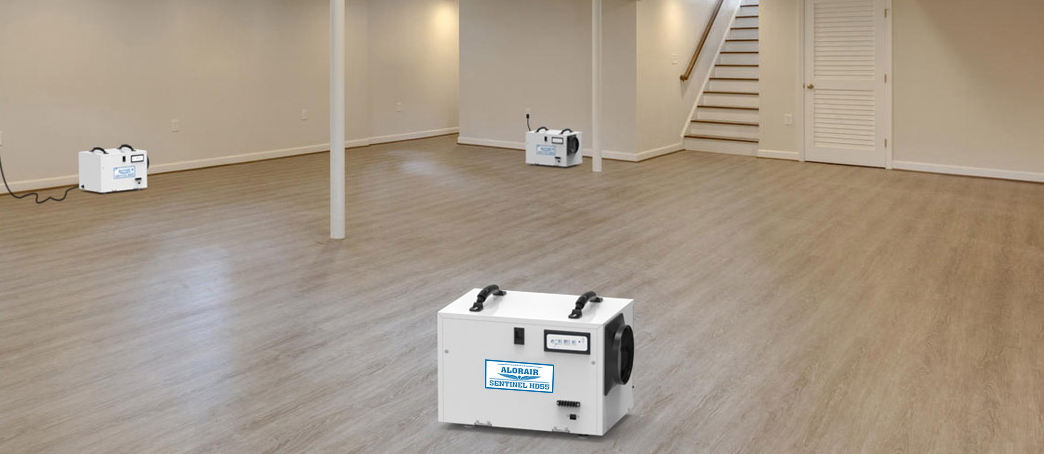 SAVES YOU MONEY: Since it is Energy-Star rated, this dehumidifier will quickly remove moisture from the air without running up your utility bill.
Energy Star appliances are not just better for the environment, they also cost 30% less to operate compared to non-Energy Star appliances.

Moisture remains the greatest threat to your home's structural integrity. Increased humidity levels indoors can cause the growth of mold and mildew and an increase in dust mites. These are known allergens that cause respiratory problems and asthma. This is why need to invest in a dehumidifier today.

---
Key features
The unit comes with great dehumidification features. The most conspicuous ones are:

 Automatic Defrosting system - it ensures that the ice clears quickly from the coils at an operating temperature of 33F.

 It is quick to access to service-it allows the owner to open and service it.

 It is COP listed – the unit is CE, ETL  E

nergy Star 

approved. Also, it is the most efficient dehumidifier on the market. Because of these reasons, it will soon get a patent to protect the invention.

Remote humidistat design- This is a critical feature that makes the unit an ideal one if you will be using it in an area where remote sensing is required. It comes with an optional duct that is easy to mount. The flanges make installing and connecting it to the existing ducting system easier.

It is designed to work in low-temperature areas. This is why it is the most appropriate dehumidifier to be used in crawl spaces and areas with airflow issues.

It is remotely controlled. – The unit's remote control comes with a normal resume function that insulates it from noise. The remote control can be used as a switch and gives you the option of choosing an appropriate humidity sensor.

High capacity - It is a high capacity basement dehumidifier designed for restoration purposes. In fact, this is the main reason why the unit can be relied on to remove moisture through the refrigeration process. It is compact in size, a thing that makes it ideal for small spaces application

Rotary compressor- it ensures that extraction is maximum at the lowest possible cost.

Multiple ducting options- it ensures that the unit extracts 55 pints of water each day.

It is compact and small in size- This makes it easier to install it in areas with limited installation spaces like the basement. 

This is the lightest and the smallest crawl space dehumidifier you will get out there.  The humidity sensor ensures that short cycling goes away as quickly as possible. It gives easy access to the units' internal parts.  The unit draws a current of 4.1 amps making it the most economical dehumidifier on the market.
---

Applications
The Sentinel HD55 is built small compact and portable ideal for tight space dehumidification. With the patent for invention protected. This unit has CE, ETL, Energy Star certification.

The Sentinel HD55 has a wide range of applications including :
Crawlspaces.
Basements.
Storage areas.
Offices.
Warehouses.
Factories.
Bars.
Restaurants.
Museums.
Laboratories.
Laundry.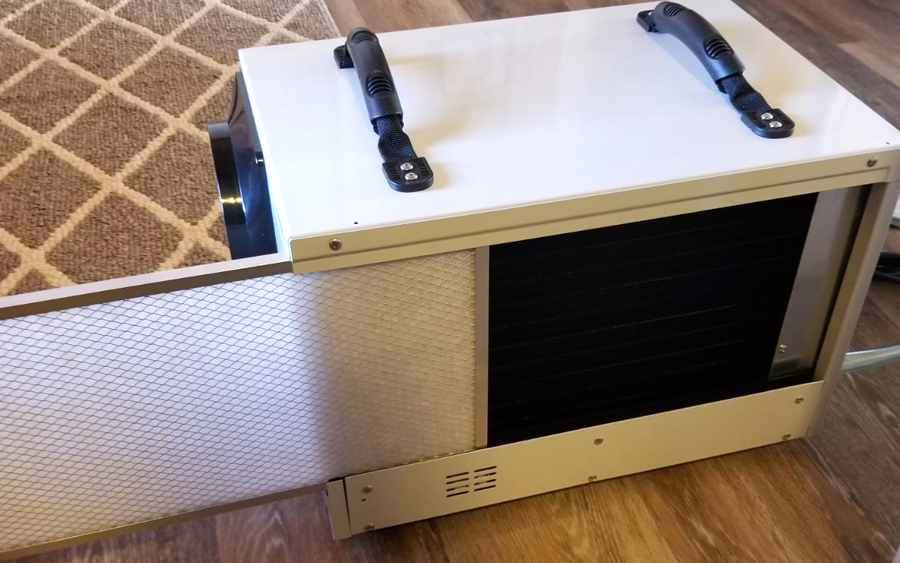 All-purpose use
Capacity. - The Sentinel HD55 removes at least 55 pints of water per day(AHAM) drawing only 4.1 amps. It is also energy efficient able to remove 2.4L/kWh consumed. Able to control humidity to a space of up to 1,300 sq. ft.

Performance.

Warranty – The Sentinel HD55 has an extended 5 years warranty. At Alorair we ensure that all out Sentinel HD55 units are built to meet the highest levels of quality and durability. Every unit is thoroughly tested and proven to be 100% functional before leaving the warehouse.

Support - All our customers enjoy efficient support, thanks to your technical support team via phone, email, or via live support. This ensures that all our customers receive the help they need whenever they encounter any challenges while operating the Sentinel HD55.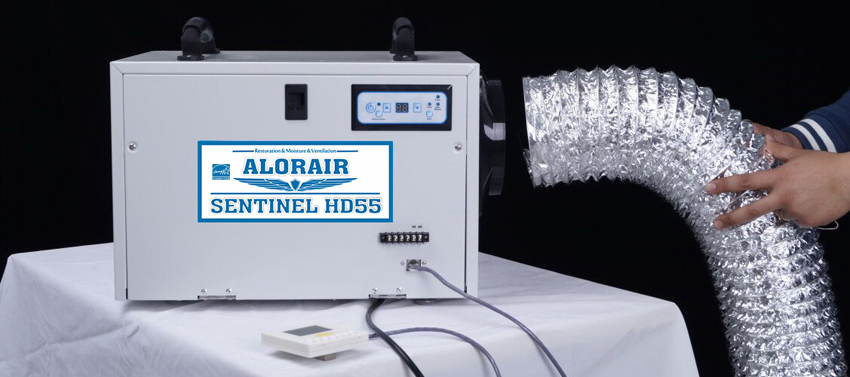 Specification
| | |
| --- | --- |
| Power: 115V/60Hz | Current: 4.1A |
| COP: 2.4 L/Kwh | Size For: Up to 1,300 sq.ft |
| Filter: MERV-8 Filter | Airflow: 130 CFM, 230 CMH |
| Sound Pressure Level: <52 dBA | Feet: Adjustable Feet |
| Refrigerant: R410A | Draining: Gravity Draining |
| Defrosting Control System: Automatic Defrosting | Functioning Temperature Range: 33.8-105℉ |
| Functioning Humidity Range: 35~90% | Capacity: 55 Pints |
| Weight: 57 Ibs | Dim (L X W X H): 19.2 x 12.2 x 13.3 in |
| Loading quantity: 40 "HQ: 792 Sets |   |
Why you should use Sentinel HD 55 Dehumidifier
The unit has a track record and a proven performance. It is a solution to problems caused by Mother Nature. For instance, the unit removes moisture through the refrigeration process. It features a high rotary compressor which ensures that maximum moisture is extracted at the least cost.
Sentinel HD 55 is compact to ensure that it fits in the smallest crawlspaces and basement. It is also flexible and comes with a humidity sensor that allows you to have quick access to the unit's internal service. This allows you to service it whenever you want.  

Sentinel HD 55 has excellent airflow and comes with a side by side filter. It is a well-engineered tool that is capable of removing a massive 55 pints of water per day. (AHAM).

Has an excellent Drainage system- unlike other dehumidifiers, the HD 55 drains via the force of gravity. It allows the dehumidifier to continue and so you don't need to worry about a filled up tank. The unit cannot stop dehumidifying midstream because of a filled tank.