AlorAir Cleanshield HEPA 550 Air Scrubber
Original price
$779.00
-
Original price
$779.00
Alorair cleanshield Hepa 550 air scrubber
 Key benefits,
Filter change light and variable speed,
Negative air machine with on-board duplex gfci,
HEPA air scrubber air purifier with 3 stage filters,
10 years warranty
Overview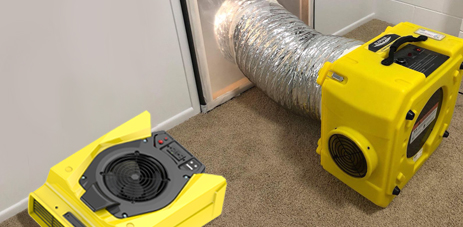 The Cleanshield HEPA 550 is equipped with pre-filters, HEPA filters, and an activated carbon filter. This perfect combination makes this unit the most effective air scrubber in the market. Able to remove air-borne debris as small as 0.3 microns in size.
This means Cleanshield HEPA 550 will easily remove pollen, mold spores, dust mites, plant spores, and pet dander. These are some of the most common allergens found indoors.
Cleanshield HEPA 550 is effective at cleaning contaminated air using the three filters :
Pre-filters - they capture large particles.
Activated carbon filters. – they aid in capturing large particles and also most importantly help in cleansing any odor in the air. Activated carbon filters will capture a variety of volatile organic compounds(VOCs), including :
Smoke or soot.

Among other compounds.

Sewer Odors

Fumes from paint and paint thinners.

Food odors.
HEPA filters – tasked with capturing smaller size particles like mold spores, fungi, and fine dust particles.
During any restoration job, once space is dry the air is always stuffy or has some sort of odor, this is why we recommend the Cleanshield HEPA 550 for all restoration jobs to give your space that final excellent touch.
Key features
Indicates when the primary (HEPA) filter needs to be changed

Plug up to three units together for a total of 1650 CFM on one 15 amp circuit

Size 2 in" Smaller than competitive units

Weighs 6.0 lbs less than competitive units

More Effective than competitive units

Long-life Maintenance-free Bearing Motor

Low noise, quiet operation

Both Inlet and outlet can be ducted

Applications


The Cleanshield HEPA 550 air scrubber features flexible and pioneering air purification technology from Alorair. It is 99.9% effective removing both air and surface contaminants.
Cleanshield HEPA 550 is a versatile air scrubber and negative air machine that can be deployed for or at:

Water damage restoration task.

Fire damage restoration.

Dust control.

Odor control.

Mold remediation works.

Sewage remediation.

Construction sites.

Basements or crawlspaces.

Tunnels.

Industrial cleaning.

Welding booths.

Among other applications.
Performance
Air volume - Cleanshield HEPA 550 can produce 550 CFM airflow volume while at its peak. This makes it effective are cleaning a large amount of air per day.
Energy-efficient – When the Cleanshield HEPA 550 is at peak operation it only consumes no more than 3 amps. Hence, in a large space, you can plug the units on one 15 amp circuit.
Design and built – At Alorair, has designed and built the Cleanshield HEPA 550 air scrubber to be the smallest and lightest in the market, while still maintaining its high performance.
Transportable – We have built the Cleanshield HEPA 550 to be easily stacked up and easily interlock for easier transport with a strong handle to make it easy to carry from one space to the other.
Quiet operations - built to produce low noise levels while operational.

Specifications
| | |
| --- | --- |
| Power | 2.8 amps, 115V, 60 Hz |
| Duct sizes intake | Intake: 16 in. |
| Duct sizes Outlet | Intake: 8 in. |
| Cord | 25 ft Power Cord |
| Outlet | 15A UL Rated GFCI Duplex Receptacle |
| Static pressure | 2.8 in. (H2O) |
| Air flow | 270~550CFM |
| Sound Pressure Leve | <69DBA |
| Filters | G3 Filter |
| Filters | HEPA 550 Filter |
| Filters | Activated Carbon Filter |
| Weight | 44Ibs |
| Shipping Dim(WxHxD) | 14.8"x20.8"x24.8" |
| Loading quantity | 20":147Sets/40":321Stes/40"HQ:398Sets |
Replacement Parts
Switch, On-Off-On.

Outlet,GFCI,15A.

Grill Exhaust.

Blade&Motor  

Pre-Filter

Activated Carbon Filter  

HEPA 550 Filters  

LayFlat Ducting  

Stop & Go Vortex Ducting